AquaBliss Revitalizing Shower Filter Replacement Cartridge (SFC100)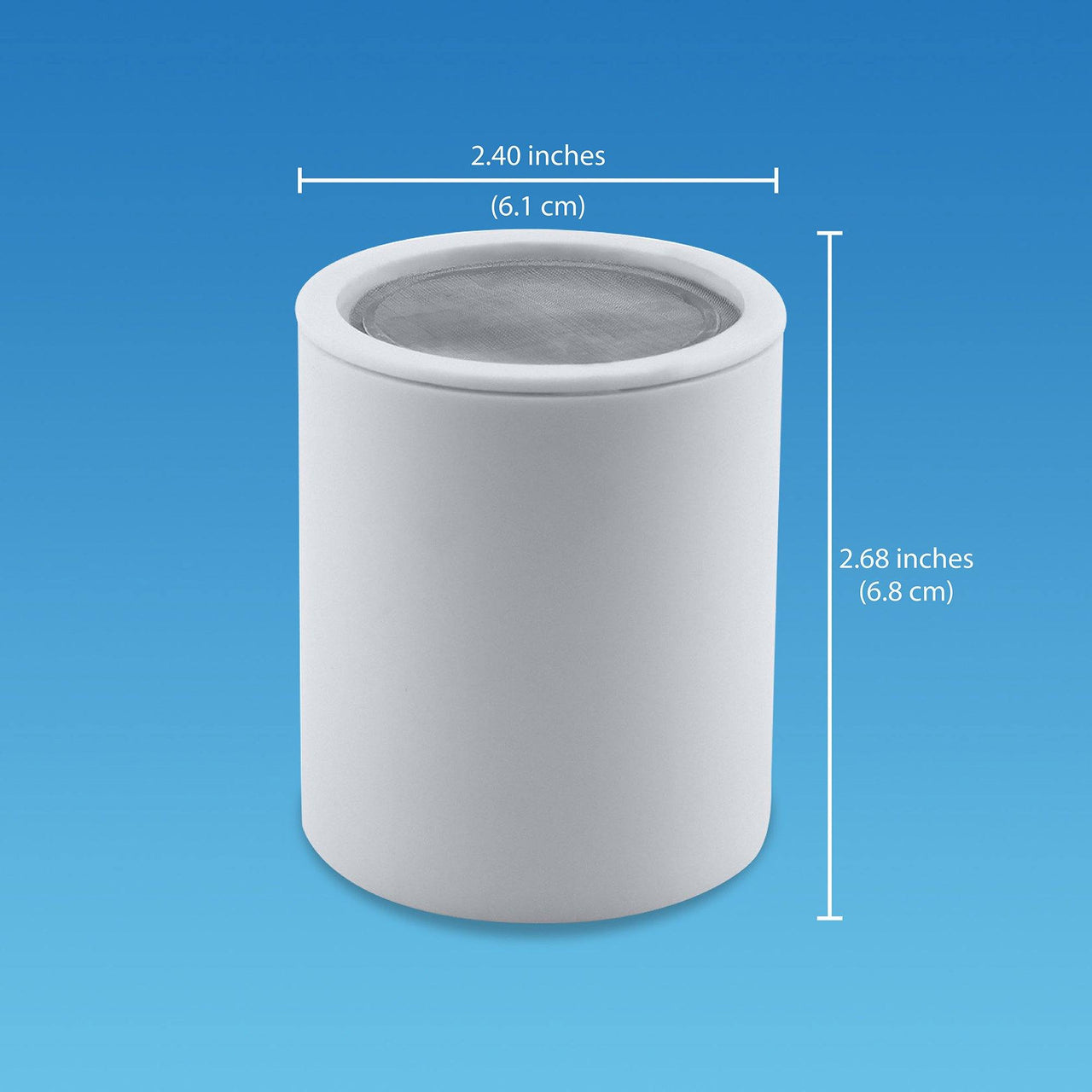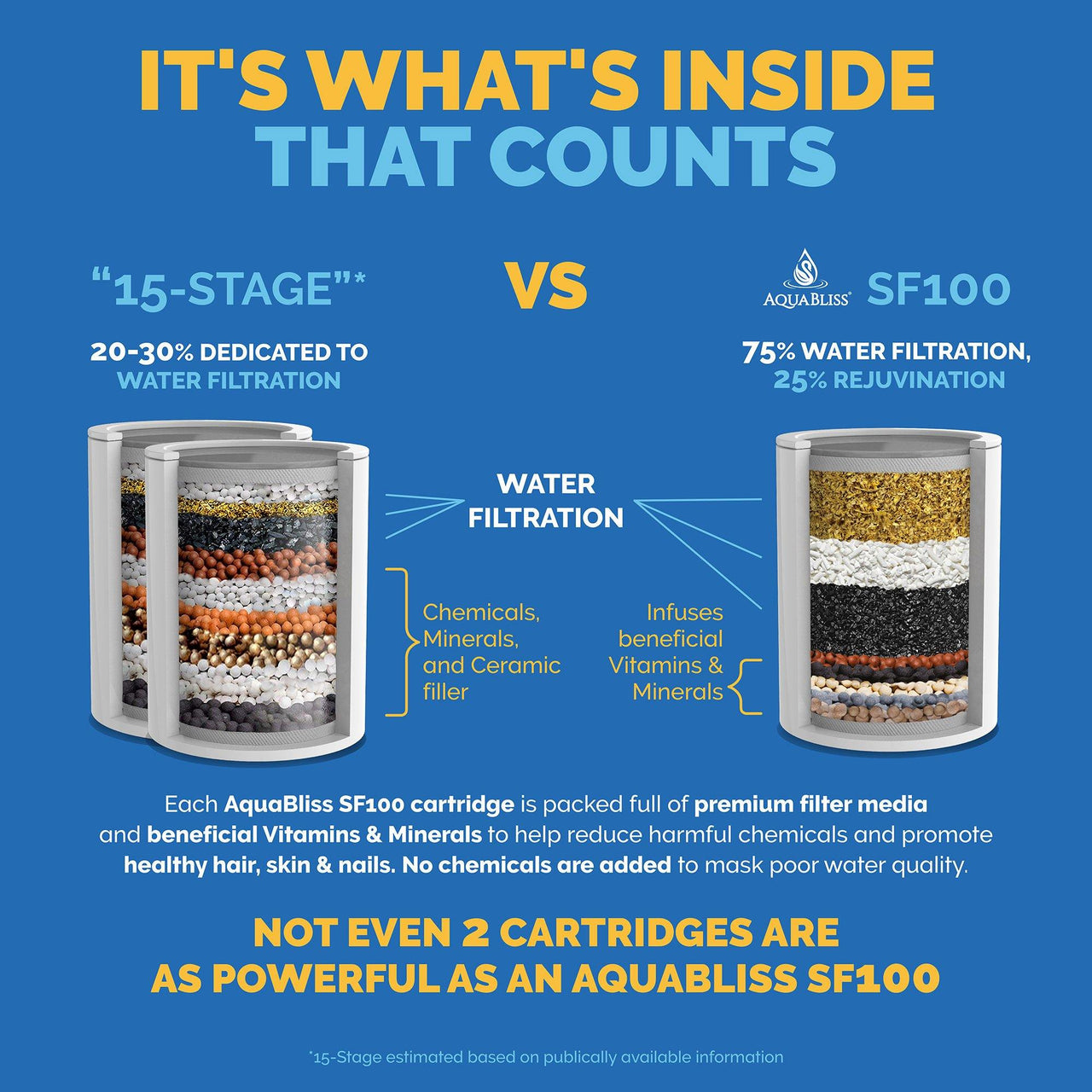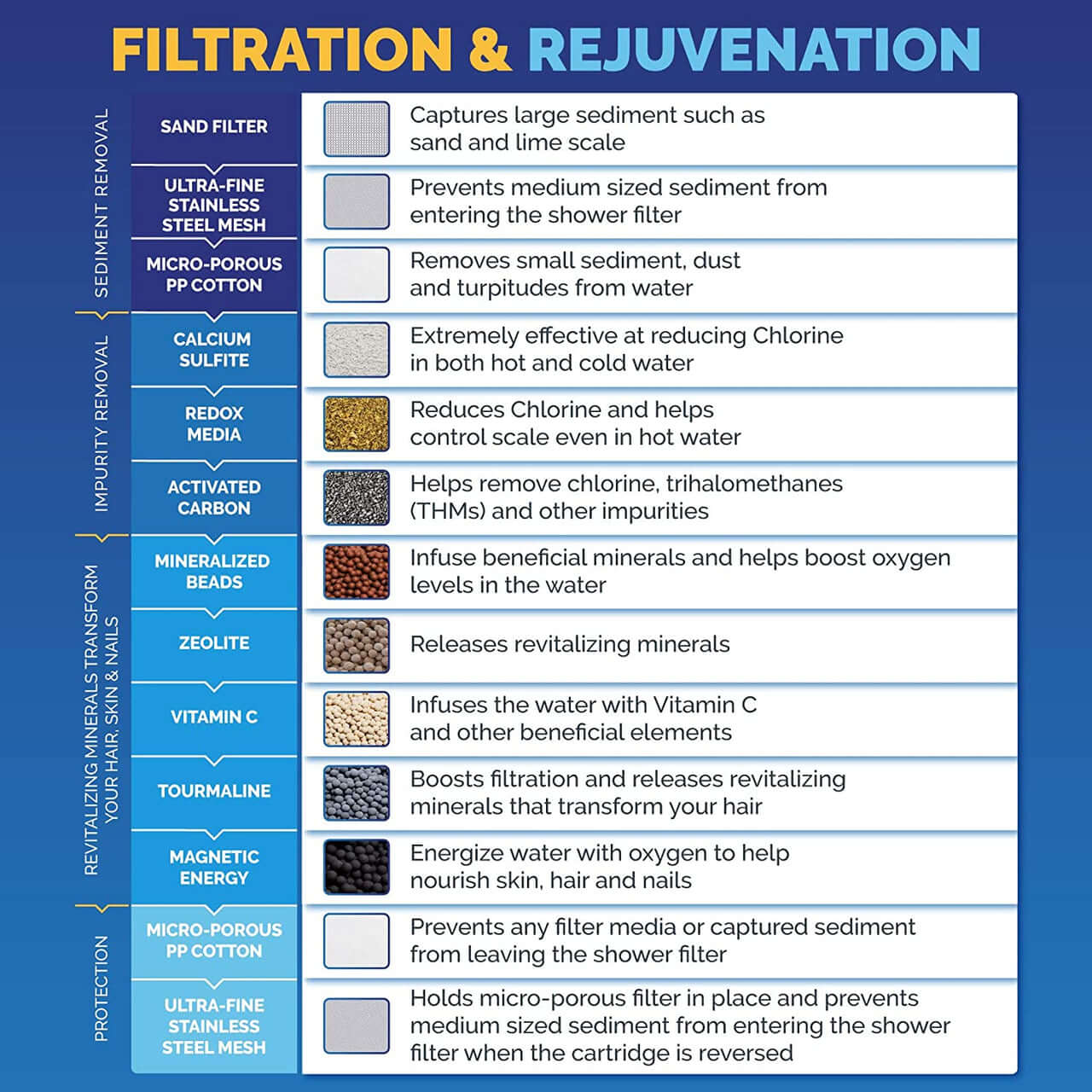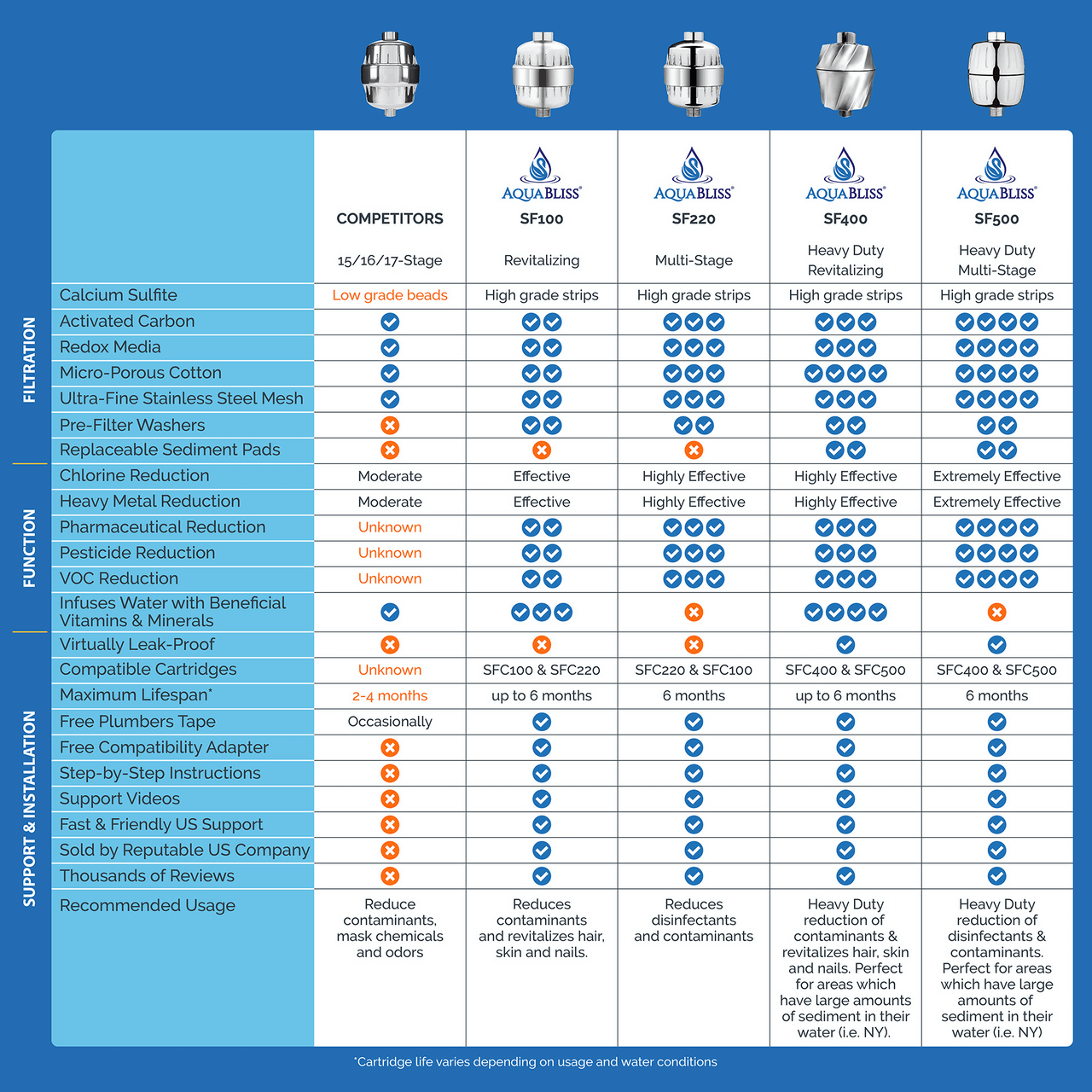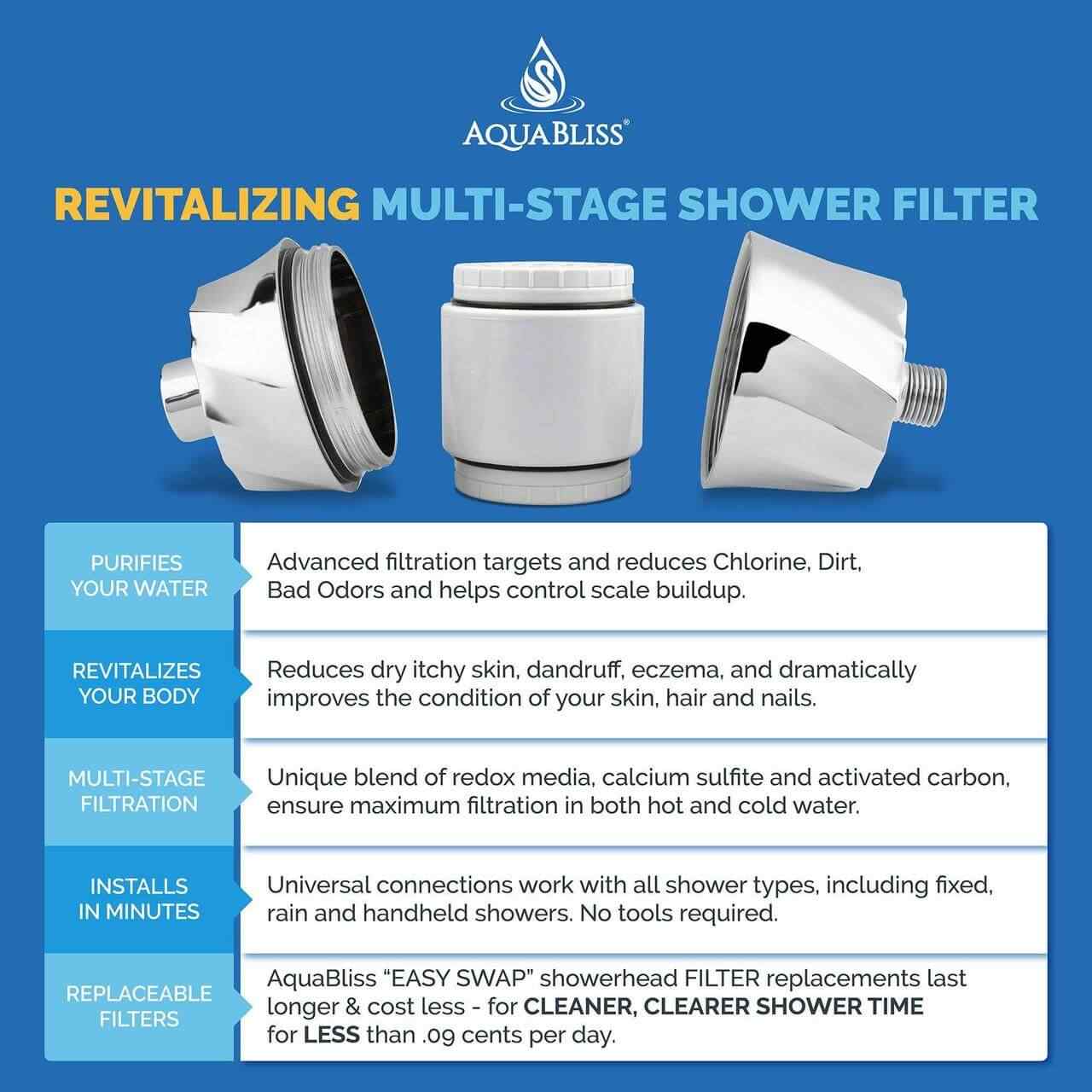 Quickly, Effectively & Efficiently Reduce Itchy, Dry, Flaky Skin Plus Support Beautiful Skin, Hair, and Nails
REDUCE SKIN IRRITATION AND GLOW
Don't suffer from dry, itchy, flaky skin and eczema – our multi-stage shower filter replacement removes the hard water, chemicals and chlorine that depletes your skin of nutrients, while the internal natural ceramic beads infuse even more nutrients resulting in glowing, soft, supple skin that glows.
REMOVES MORE BAD STUFF THAN ANY OTHER FILTER
While most shower filter replacements and whole house filters only remove chlorine, our AquaBliss multi-stage shower filter replacement reduces the full spectrum of things that harm your beauty - Chlorine, Dirt, Bad Odors, and Scale.
SOFT FEELING, FRESH SMELLING WATER
Stinky, hard feeling water? Customers are amazed by how soft water feels against their skin, not to mention how fresh it smells. Simply turn on your shower and your sink at the same time, and believe us, you'll notice a difference! While your sink water stinks of chemicals, your fresh shower water smells more like a flowing mountain stream.
SAVE A BUNDLE ON CLEAN, CLEAR, BEAUTIFUL SKIN, HAIR & NAILS
Order now if you'd love to promote dramatic positive transformations in your hair, skin and nails for less than $0.10 cents per day!
REPLACE IN MINUTES – NO TOOLS REQUIRED
If you can replace a lightbulb, you'll find replacing your new shower filter cartridge even easier. Simply unscrew the filter from the showerhead, open up the filter housing, pop out the used showerhead filter, and pop in your new one.
HIGH-QUALITY FILTRATION MEANS EVEN MORE CLEAN SHOWERS
Don't be fooled by shower filter replacements that use CHEAP activated carbon – we only use the purest, premium-grade calcium sulfite, redox media, and ceramic mineral beads so you get a glorious, rejuvenating shower every time.
HOW IT WORKS – 12 HEALTH BOOSTING, BEAUTIFYING STEPS  
1: Ultra-Fine Stainless Steel Mesh blocks medium size sediments
2: Micro-Porous PP Cotton removes small sediments, dust and turpitudes
3: Calcium Sulfite effectively removes all chlorine from both HOT and COLD water
4: Redox media removes chlorine, even in hot water
5: Activated Carbon Removes chlorine, trihalomethanes (THM's), organic material and impurities
6: Red mineralized beads infuse beneficial minerals and helps boost oxygen levels in the water
7: Zeolite Ceramic beads release revitalizing minerals
8: Ceramic Vitamin C beads infuse the water with Vitamin C and other beneficial elements
9: Tourmaline boosts filtration and releases revitalizing minerals that transform your hair
10: Magnetic Energy beads energize water with oxygen to help nourish skin, hair and nails
11 & 12: Micro-Porous PP Cotton & Ultra-Fine Stainless Steel Mesh – Prevents filter media and captured sediments from leaving the filter and entering your shower.
100% SATISFACTION GUARANTEE - UPSCALE YOUR BATHROOM WHEN YOU ORDER TODAY
We GUARANTEE your Aquabliss SFC100 shower filter cartridge replacement promotes healthier hair, skin, and nails – or simply let us know and we'll extend a full, prompt, no-hassle refund.
So go ahead, click add to cart now and continue experiencing the soothing, rejuvenating, freshly scented showers you've grown to love!
COMPARE SHOWER FILTER CARTRIDGES
| | | |
| --- | --- | --- |
| Model | AB-SFC100 | AB-SFC220 |
| Calcium Sulfite | | |
| Redox Media | | |
| Activated Carbon | | |
| Replaceable Sediment Filter Pads | | |
| Chlorine Reduction | Effective | Highly Effective |
| Infuses Water with Beneficial Vitamins & Minerals | Zeolite, Vitamin C, Tourmaline & Magnetic Energy beads | |
| Fast & Friendly USA Customer Care | | |
| Step-by-Step Instructions | | |
| Size (inches) | 2.68" (H) x 2.40" (W) | 2.68" (H) x 2.40" (W) |
| Weight | 0.39 lbs | 0.39 lbs |
| Compatible Shower Filters | SF100, SF220 | SF100, SF220 |
FAQs
What's the difference between the SFC100 & SFC220?
The SFC220 is a heavy-duty multi-stage cartridge for the SF220 shower filter. It is designed to reduce higher levels of contaminants from your water. The SFC100 also reduces contaminants and includes beneficial vitamins and minerals, which infuse your water to help repair and rejuvenate damaged skin, hair & nails
How long does it last?
We recommend changing the cartridge after 10,000 gallons of use or 6 months, whichever comes first. This will ensure the optimal performance of the shower filter.
Can this filter cartridge remove Chloramine?
No - While it is extremely effective at removing Chlorine, it cannot remove Chloramine. If water has high levels of chloramine we would recommend using a whole-house filter, to improve the quality of your water.
Which shower filters is this compatible with?
It is compatible with AquaBliss SF100 and SF220 showers filters. 
People often buy
Total price:
$70.84
$114.85
Easy to install, love having cleaner water
Replacing the filter cartridge was very easy and quick. I'm so glad that I started using this filter! Delivery was also super fast--arrived the day after I ordered.
Great product
I love the filter replacement cartridges they are great thank you Aqua bliss
Haven't Replaced Cartridge yet
I have bought 3-4 whole filters and recently realized I could replace cartridges. I'm hoping it works!
shower filters replacement's
I am very happing getting the replacements for our showers. Thanks!
Unhappy With Your Product? We'll Take it Back!
We stand by our high-quality products and your statisfaction is 100% guaranteed by our 30-day Money-Back Guarantee
Secure Checkout
We use encrypted SSL security to ensure your credit card information is 100% protected.