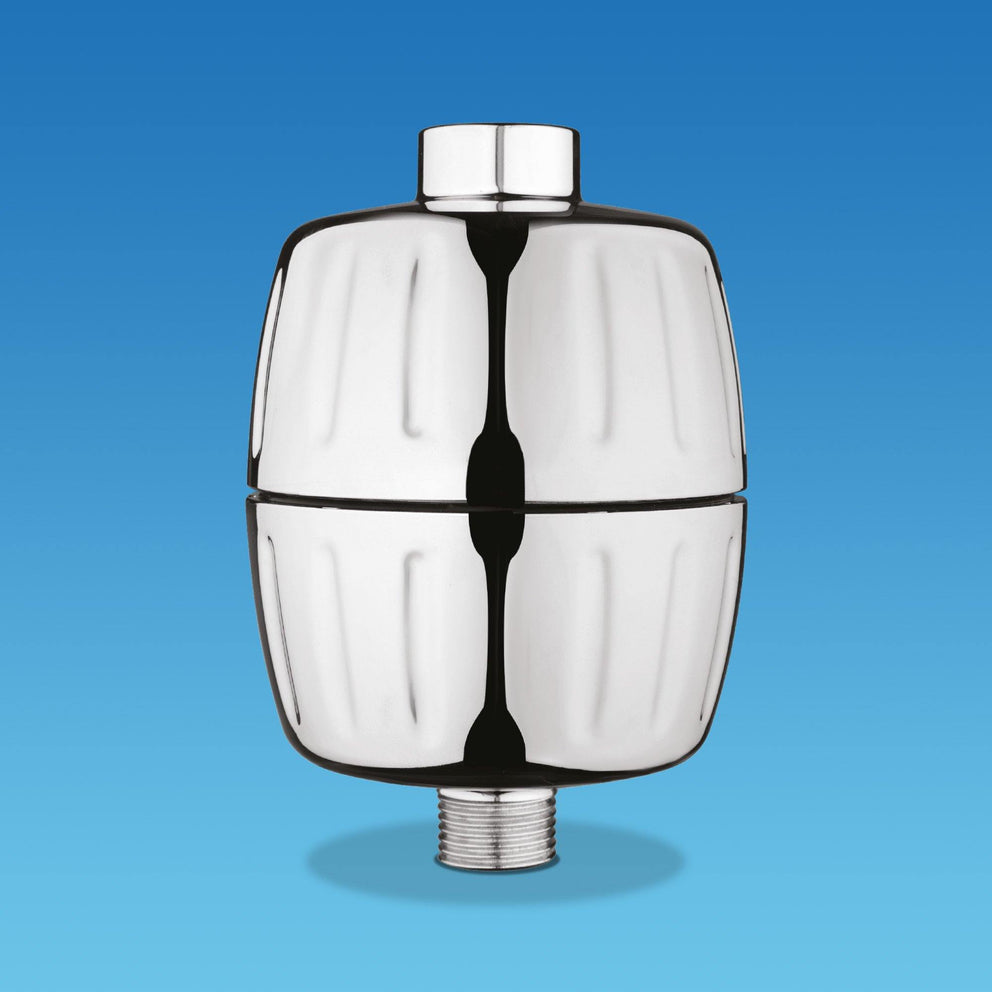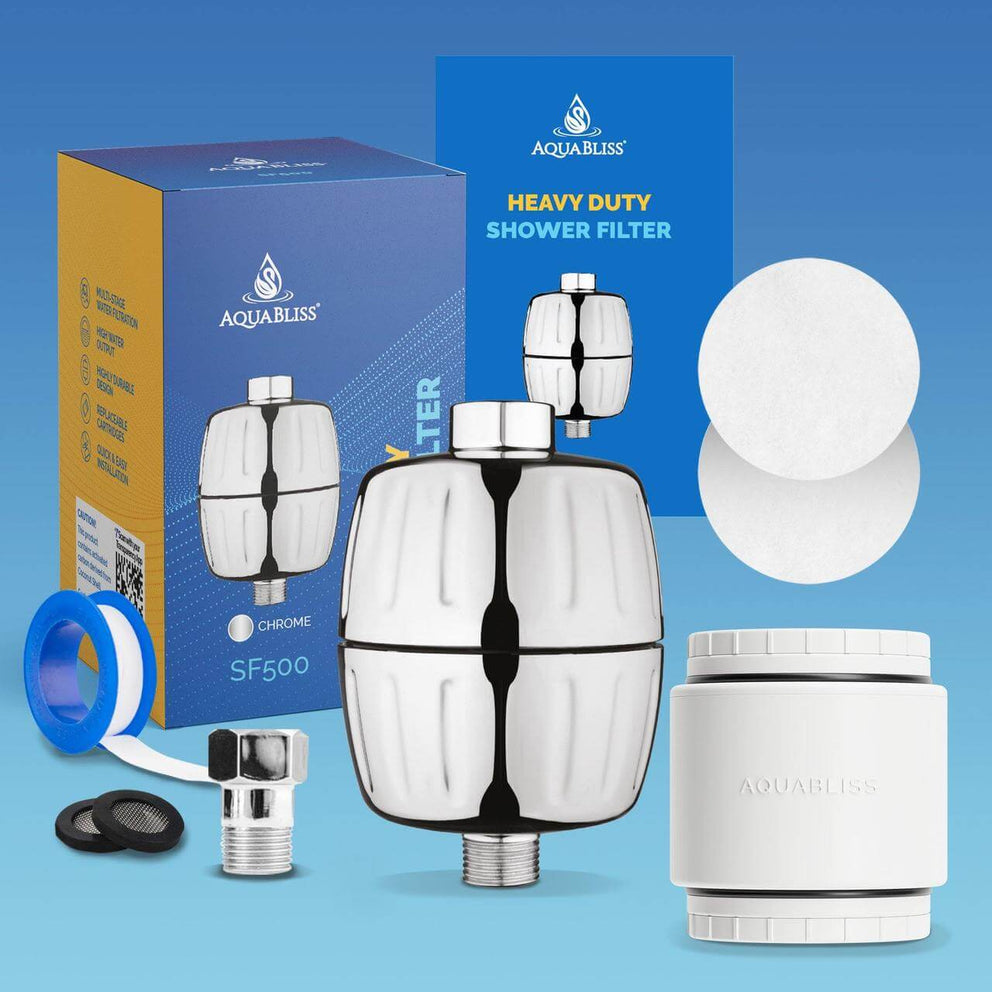 AquaBliss HD Multi-Stage Shower Filter (SF500)
from

$37.99

$79.95
The Shower Water Purifier with 30% More Powerful Water Filtration The SF500 is the customer feedback-driven filtration showerhead design. Made with the most advanced filtration media, our #1 selling showerhead filter can significantly reduce sediments, hard minerals, and toxic chemicals in your water. Enjoy a prettier and healthier you with this patent-pending filter. Superior Filtration Anyone who's ever camped for more than a few days knows that clean looking water doesn't mean safe water. Most water supplies in the US are no exception. With 30% more filtration media, our AquaBliss Heavy Duty showerhead water filter works hard to quickly block chemicals, pesticides, and contaminants. Plus, it inhibits the growth of scale, so it doesn't wreck your shower or touch your body. 10 Minutes to Radiant Skin, Hair, and Nails The heavy duty shower water filter targets the leading cause of itchy skin, dandruff, eczema, frizzy hair, and brittle nails: a pH imbalance. The AquaBliss SF500 shower water purifier promotes restoration of the water's pH balance so you start seeing immediate benefits like shinier hair, glowing skin, and harder fingernails just by showering! Universal Fit ⏤ No-Tool Installation and Maintenance Our upgraded design with no-leak seals, removable sediment pads, and a universal adapter make the SF500 easy to install and maintain on all types of showerheads. If you can twist the lid of a jam jar, you can easily fix our shower water purifier onto your showerhead and arm. No Excuses — Too Affordable to Risk Your Health For less than $.10 cents per day, you can enjoy protection from your heavy duty shower head filter. This is probably one of the best decisions you've ever made to protect you and your family's health. How It Works Here is how the various filtration media in SF500 work to produce healthier water: Sand filter ⏤ Blocks large sediments like limescale and sand from entering the filtration showerhead Ultra-fine stainless steel mesh ⏤ Captures medium-sized sediments  Micro-porous PP cotton ⏤ Traps small sediments, dust, and turpitudes in water Calcium sulfite ⏤ Lowers the concentration of chlorine in both hot and cold water Redox media ⏤ Decreases scale and reduces chlorine Activated carbon ⏤ Helps lessen the amount of chlorine, THMs, and other impurities Micro-porous PP cotton ⏤ Prevents filtration substances or captured sediments from leaving the shower water purifier Ultra-fine stainless steel mesh — Keeps the micro-porous cotton filter in place and prevents the entry of medium-sized sediments into the filtration unit when the cartridge is turned upside down  100% Satisfaction Guaranteed AquaBliss offers a 100% satisfaction guarantee because we know you will love our shower water purifier. But if you don't totally love this product, you can send it back within 30 days and get a full refund. COMPARE SHOWER FILTERS AquaBliss Revitalizing Shower Filter SF100 AquaBliss Multi-Stage Shower Filter SF220 AquaBliss HD Multi-Stage Shower Filter SF500 Model AB-SF100 AB-SF220 AB-SF500 Calcium Sulfite Redox Media Activated Carbon Pre-Filter Washers Replaceable Sediment Filter Pads Chlorine Reduction Effective Highly Effective Extremely Effective Infuses Water with Beneficial Vitamins & Minerals Zeolite, Vitamin C, Tourmaline & Magnetic Energy beads Free Compatibility Adapter Fast & Friendly USA Customer Care Step-by-Step Instructions Thread Size 1/2 inch 1/2 inch 1/2 inch Size (inches) 4.65 (h) x 3.35 (w) 4.65 (h) x 3.35 (w) 4.76 (h) x 3.31 (w) Weight 0.70 lbs 0.95 lbs 1.34 lbs Cartridges Included 1 x SFC100 1 x SFC220 1 x SFC500 Compatible Cartridges SFC100, SFC220 SFC220, SFC100 SFC500 FAQ What is the difference between the SF500 & SF220? The SF220 is our first generation shower filter dedicated chlorine and other harmful contaminate reduction. The SF500 heavy duty shower filter is based on the extensive customer feedback we received from SF220 users. The heavy duty shower filter contains approximately 25-30% more filter media than the first generation shower filter, removable sediment pads, adapter, leak-free seals all within a similarly sized outer shell.  Will it reduce the water pressure? The shower filter is designed to maximize your water flow, so it will not reduce or restrict your water flow. How often do I need to replace the filter cartridge? We recommend changing the cartridge at least every 6 months. This will ensure the optimal performance of the shower filter. Can this shower filter remove Chloramine? No - While Chloramine is made from Chlorine and Ammonia, it reacts differently to Chlorine. If your municipal water has high levels of chloramine, it may be a good idea to use a whole-house filtration system or a similar dedicated chloramine filter. Will this work with my existing shower head? Yes - The shower filter uses standard ½" connections, to ensure maximum compatibility with all standard showerheads. We also include an adapter to improve compatibility. Can I use a TDS meter to test the water quality? TDS meters measure the conductivity of the water, which can help identify salts or other impurities which have positive charges. However, common disinfection by-products in water, such as chlorine, iron, chloramine etc, do not impact the conductivity of the water. So they would not be picked up by a TDS meter. So for measuring general water quality, a TDS meter is not very helpful. Instead, it would be better to use more specialized tests to test for specific chemicals or metals, such as a chlorine colorimeter.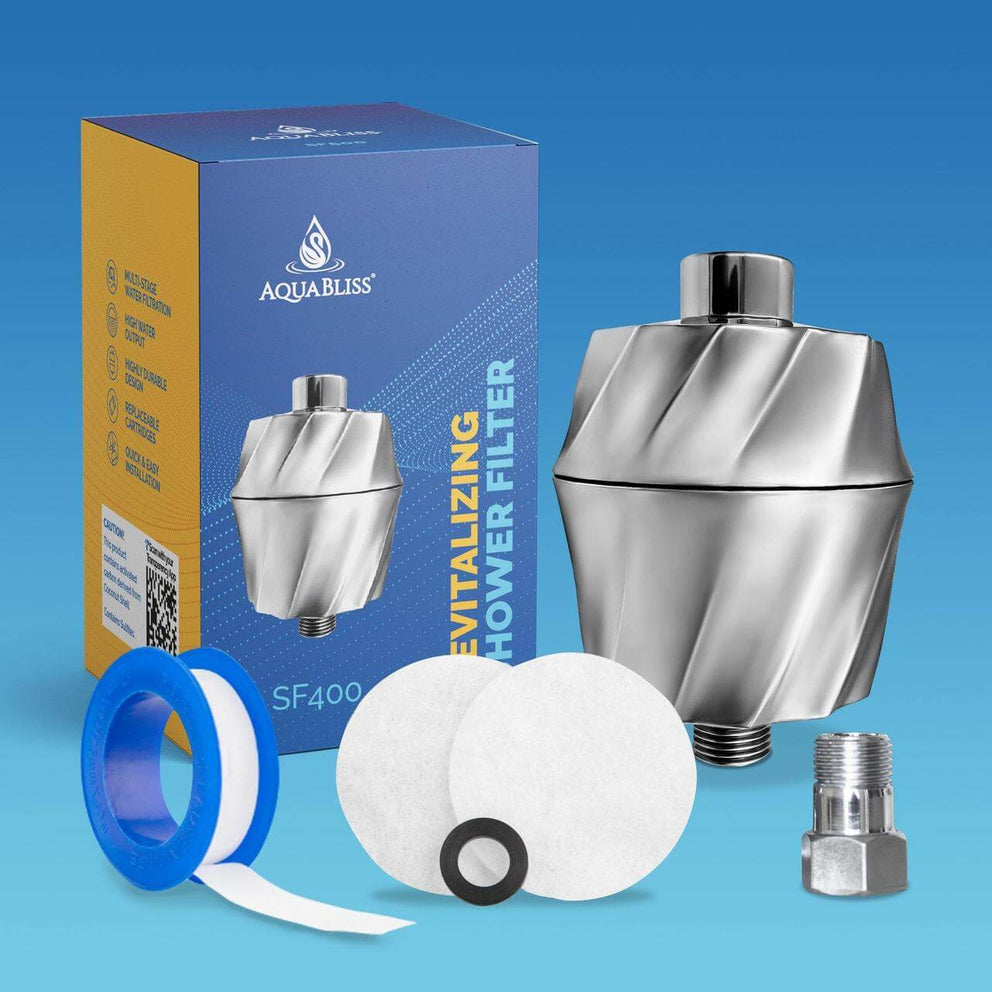 AquaBliss HD Revitalizing Shower Filter - Chrome (SF400)
$37.99
$79.95
Make Every Shower Count... x2! Aquabliss HD Revitalizing Shower Filter contains 40% More Active-Medium & Double the Vitamins & Minerals. No Fluff, Fillers or Beauty-Depleters. Beat the Sediment CloggingCity water? Well water? Low pressure problems? The culprit's likely sediment, fine grainy particles that build up in your shower head, wavering between clogging it up and cascading down onto your skin, hair and shower floor. So we included 2 easily changeable pads, that capture the silty sediment without clogging up your shower's flow. Compliment Your Beauty With Every Shower Supports soothed, glowing, itch-free skin Aids nails to grow longer by supporting hardness & strength Promotes thicker, stronger, longer, frizz-free hair free from damage and breakage  Water Feels SofterRelying on salt-based water softeners and wondering why your hair, nails, and skin still feel...damaged? While water softeners only remove calcium and magnesium, leaving the bad guys behind, the medium used in our HD Revitalization filter aids reduction in the yuck that diminishes your beauty, plus supports replenished skin, hair, and nails. Have You Seen the News?Better yet, have you tested your water? Pollution is everywhere, and the pollution in the air easily seeps into your groundwater system, and that's all before treatment plants add skin-damaging chemicals that treat your water (to make it safe for consumption). Preinstalled & Ready to Go!We put together everything but the kitchen sink. Cartridge pre-installed. Check! Sediment pad installed. Check! We've even included thread seal tape so you skip the trip to the hardware store. Simply open up the box, unscrew your shower head, use the threading tape, screw this on and your shower is ready to cleanse, beautify and brighten your day.
Unhappy With Your Product? We'll Take it Back!
We stand by our high-quality products and your statisfaction is 100% guaranteed by our 30-day Money-Back Guarantee
Secure Checkout
We use encrypted SSL security to ensure your credit card information is 100% protected.