AquaBliss Revitalizing Shower Filter - Chrome (SF100)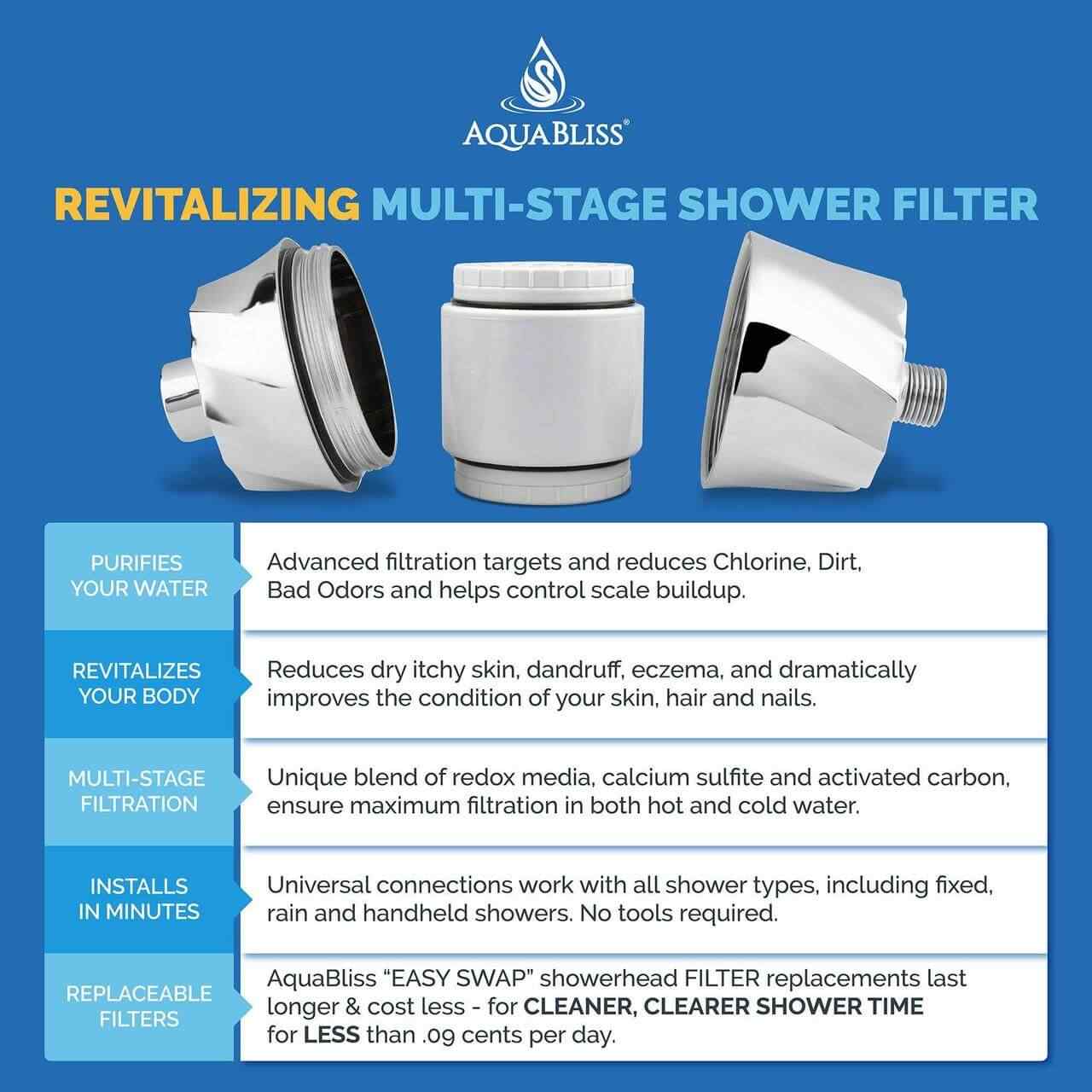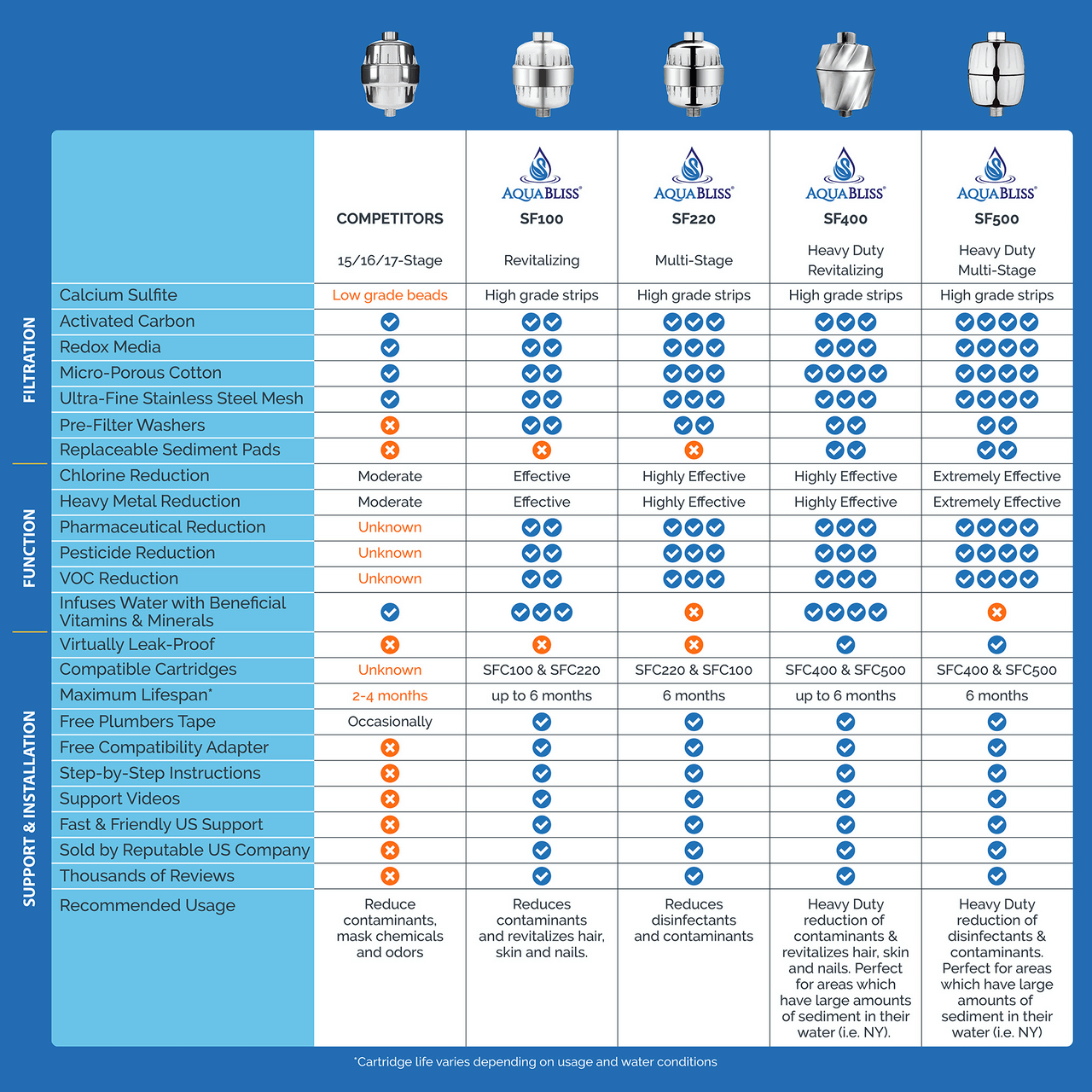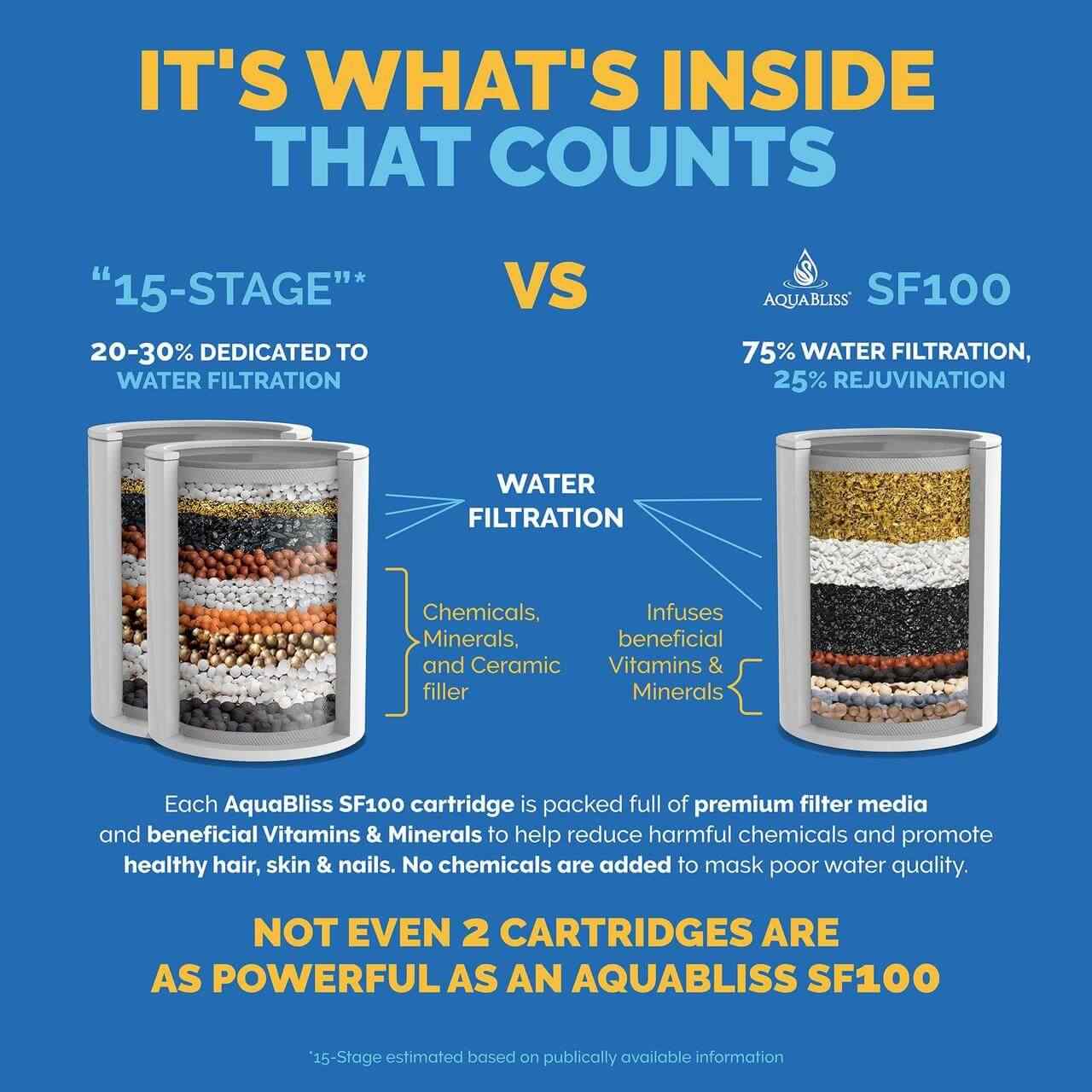 The AquaBliss High Output Revitalizing Shower Filter — The quickest, easiest, and most effective way to naturally reduce dry, flaky skin while supporting healthy hair, skin, and nails
Made with 75% filtration media and 25% rejuvenating ingredients, the AquaBliss SF100 purifies your water and restores a healthy appearance. Our proprietary system not only reduces impurities from tap water but also soaks your hair, skin, and nails in beneficial vitamins and minerals to help repair damage. Boost your natural beauty with this revolutionary shower filter.
Blissful Rejuvenation
Say hello to glowing skin, shiny hair, and strong nails with this one-of-a-kind filter. The AquaBliss high output revitalizing shower filter infuses your water with oxygen, vitamin C, and essential minerals to help your body repair itself. Enjoy nourishing showers that make you radiate beauty and health.
Soft Feeling, Fresh Smelling Water
Water flowing through the AquaBliss high output revitalizing shower filter provides maximum water filtration to neutralize odors, reduce harmful chemicals, and restore water to its naturally soft feeling state.
Premium-Quality Filtration
While many shower filter brands claim to have more stages, it's the quality of the materials, not quantity that matters. The AquaBliss SF100 uses premium-grade filters like calcium sulfite and redox media to effectively reduce dirt, chlorine, trihalomethanes (THMs), and more.
Kindergarten-Easy Install — No Tools Required
If you can twist in a light bulb, you can install the AquaBliss high output revitalizing shower filter. Whether you have a fixed, rain, or handheld shower head, you can attach our filter to your fixtures in less than two minutes.
Universal Fit
The SF100 filter has standard ½" connections, making it compatible with all types of shower heads.
How It Works
The SF100 combines numerous filtration and rejuvenating ingredients into a multi-stage shower filter. Below, we'll explain how this proprietary system purifies your water and makes you look radiant.
Ultra-fine stainless steel mesh ⏤ Stops medium-sized sediments from getting into the AquaBliss high output revitalizing shower filter
Micro-porous PP cotton ⏤ Captures small sediment, dust, and turpitudes
Calcium sulfite ⏤ Effectively reduces chlorine in both hot and cold water
Redox media ⏤ Further reduces chlorine, even in hot water
Activated carbon ⏤ Further reduces chlorine, THMs, and other contaminants in water
Mineralized beads ⏤ Release beneficial minerals and boost the water's oxygen content 
Zeolite ceramic beads ⏤ Infuses the water with revitalizing minerals
Ceramic Vitamin C ⏤ Infused vitamin C into your shower water
Tourmaline ⏤ Boosts filtration and releases revitalizing minerals that transform your hair
Magnetic energy ⏤ Energizes water with oxygen to nourish hair, skin, and nails
Micro-porous PP cotton ⏤ Prevents captured sediments or filtration media from leaving the AquaBliss high output revitalizing shower filter
Ultra-fine stainless steel mesh ⏤ Keeps the micro-porous cotton in place and blocks medium-sized sediments from getting into the SF100 filter when the cartridge is reversed
100% Satisfaction Guarantee
The AquaBliss SF100 gives you softer skin, smoother hair, and tougher nails after a few showers. Our customers adore the AquaBliss high output revitalizing shower filter and we're sure you'll love it too. But if you don't fall in love with this product, send it back and we'll give you a full refund ⏤ no questions asked.
COMPARE SHOWER FILTERS
FAQ
What is the difference between the SF100 & SF220?
The SF220 is a heavy-duty shower filter which is dedicated to removing chlorine and other harmful impurities from the water. The SF100 removes a high level of these harmful contaminants while also infusing the water with beneficial minerals and vitamins. These help rejuvenate and revitalize your skin, hair and nails.
Will it reduce the water pressure?
The shower filter is designed to maximize your water flow, so it will not reduce or restrict your water flow.
How often do I need to replace the filter cartridge?
We recommend changing the cartridge at least every 4-6 months. This will ensure the optimal performance of the shower filter.
Can this shower filter remove Chloramine?
No - While Chloramine is made from Chlorine and Ammonia, it reacts differently to Chlorine. If your municipal water has high levels of chloramine, it may be a good idea to use a whole-house filtration system or a similar dedicated chloramine filter.
Will this work with my existing shower head?
Yes - The shower filter uses standard ½" connections, to ensure maximum compatibility with all standard shower heads.
Can I use a TDS meter to test the water quality?
TDS meters measure the conductivity of the water, which can help identify salts or other impurities which have positive charges. However, common disinfection by-products in water, such as chlorine, iron, chloramine etc, do not impact the conductivity of the water. So they would not be picked up by a TDS meter.
So for measuring general water quality, a TDS meter is not very helpful. Instead, it would be better to use more specialized tests to test for specific chemicals or metals, such as a chlorine colorimeter. 
People often buy
Total price:
$70.84
$114.85
Easy to install
Haven't had it long enough to start seeing a difference in my skin and hair but have my fingers crossed. The instructions are clear and I appreciate the two extra O rings.
Excellent
We loved the product - but had to send for a refund because my poor sweet wife has so many allergies - and a couple of the things in the "make" up of the shower head had allergy instigating properties, which she, unfortunately, could not tolerate.
Feel so clean
I've been using a while and highly recommended!!
Amazing!
My hair and skin has been so much softer. Maybe it's placebo, but I definitely think it's a great investment!
LOVE THIS WATER FILTER
Love this shower water filter. What a difference it has made to my skin and hair! Easy to install. I highly recommend!
Unhappy With Your Product? We'll Take it Back!
We stand by our high-quality products and your statisfaction is 100% guaranteed by our 30-day Money-Back Guarantee
Secure Checkout
We use encrypted SSL security to ensure your credit card information is 100% protected.