AquaBliss Multi-Stage Shower Filter - Chrome (SF220)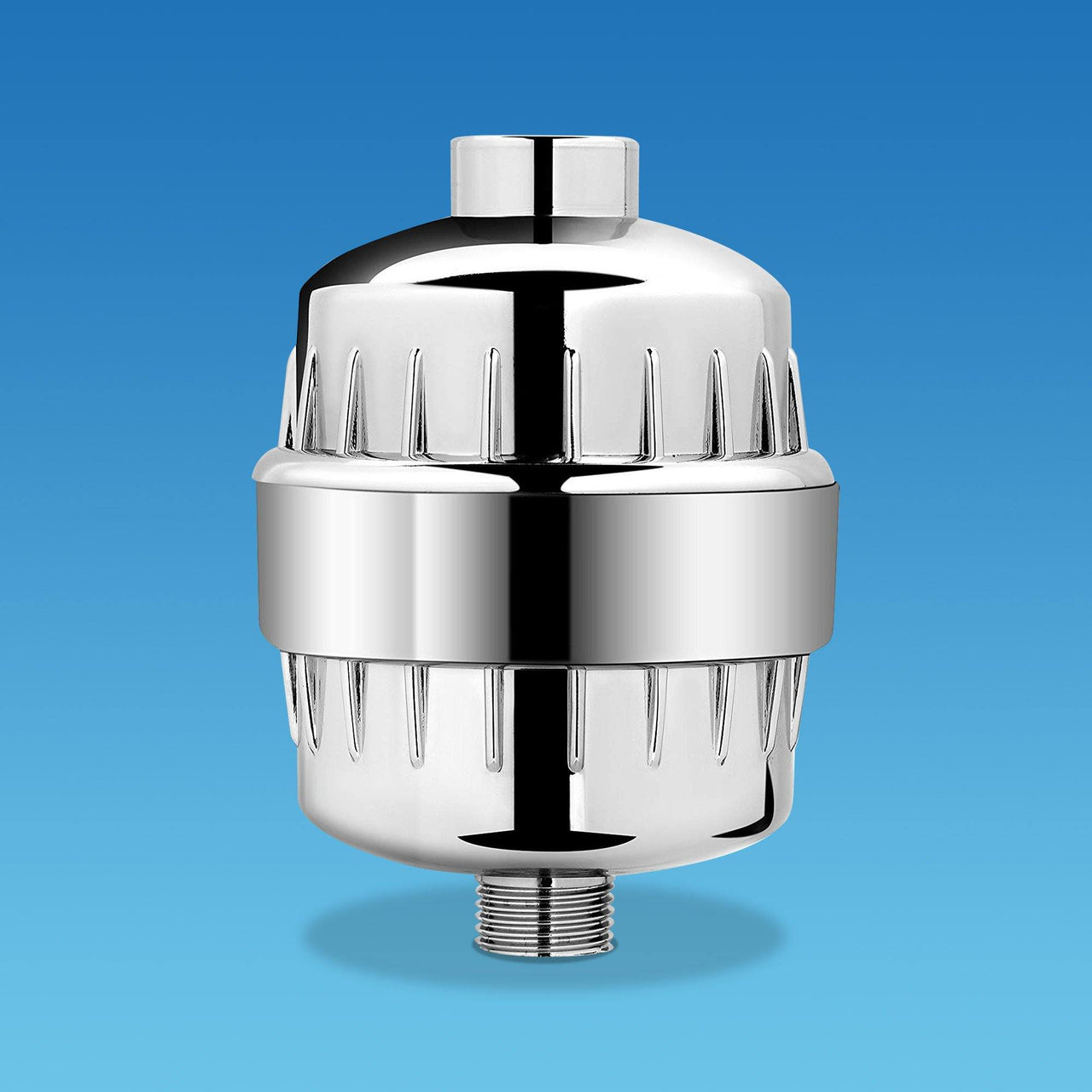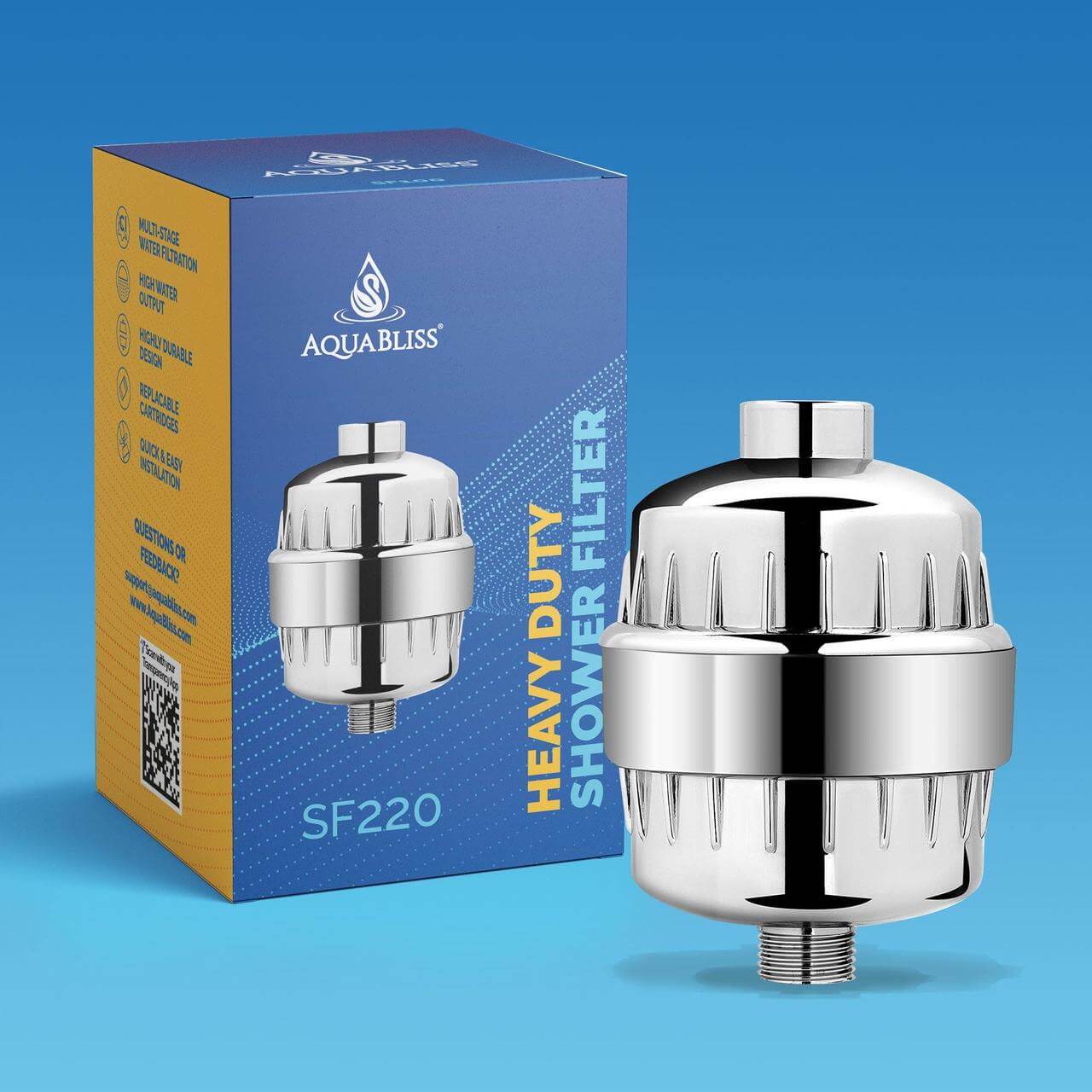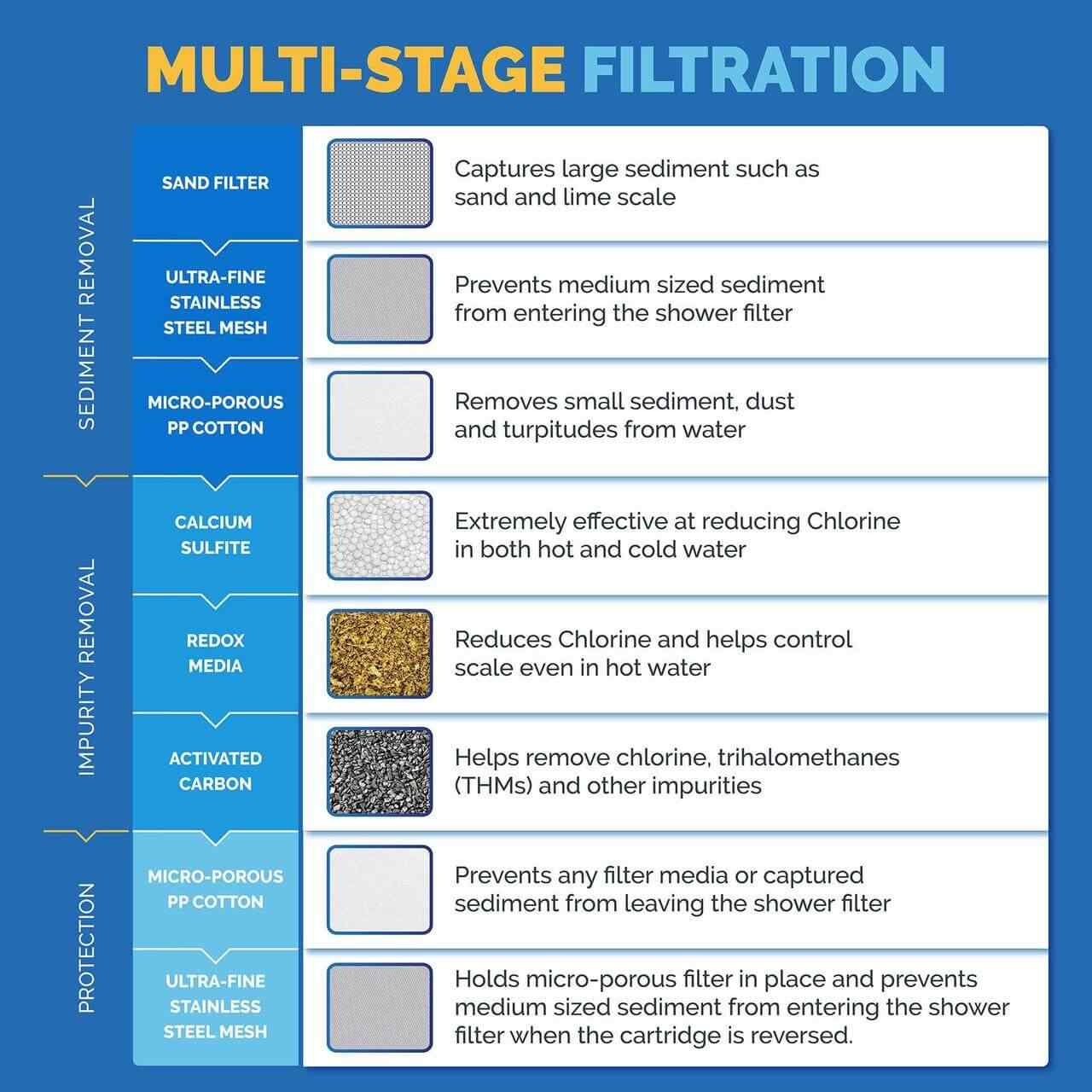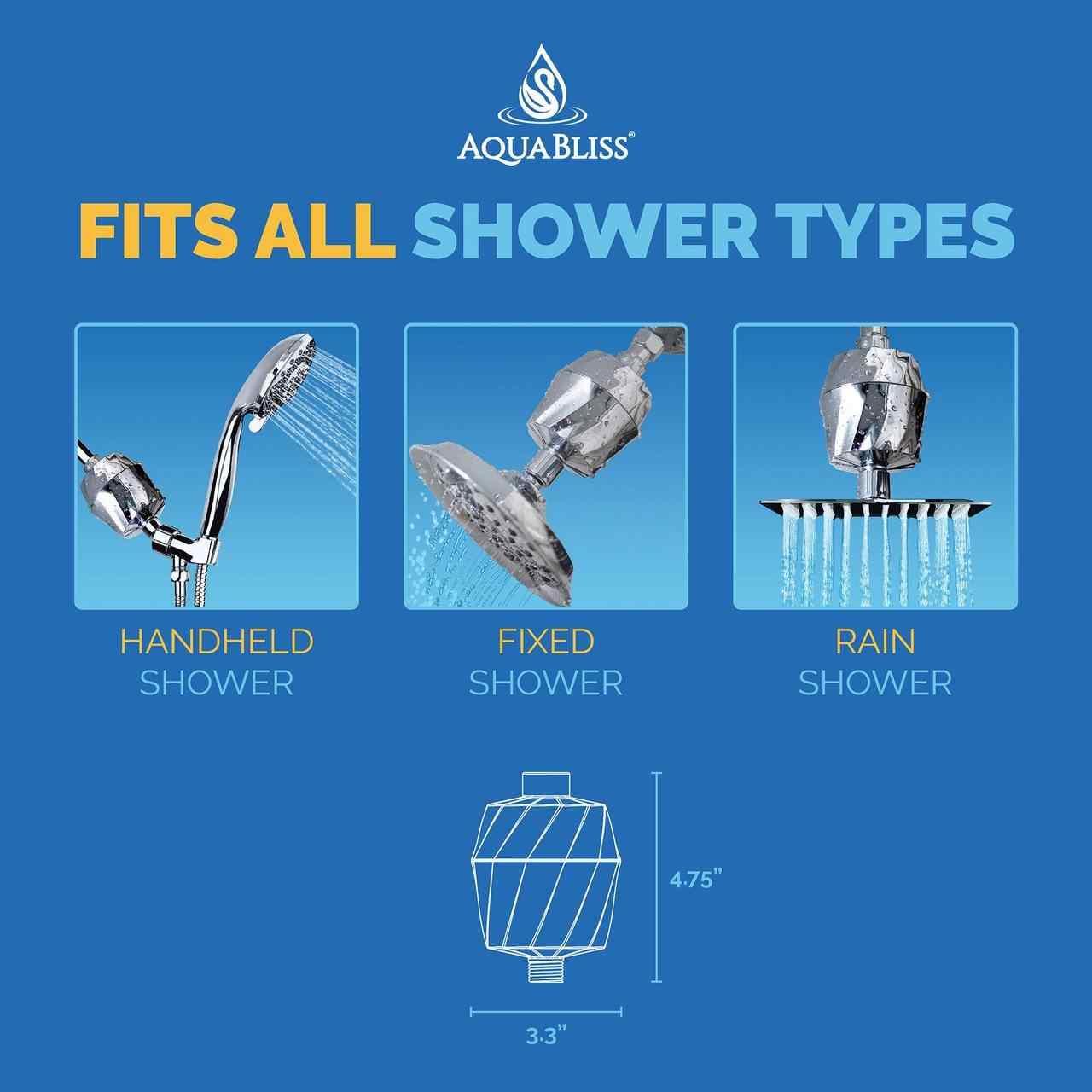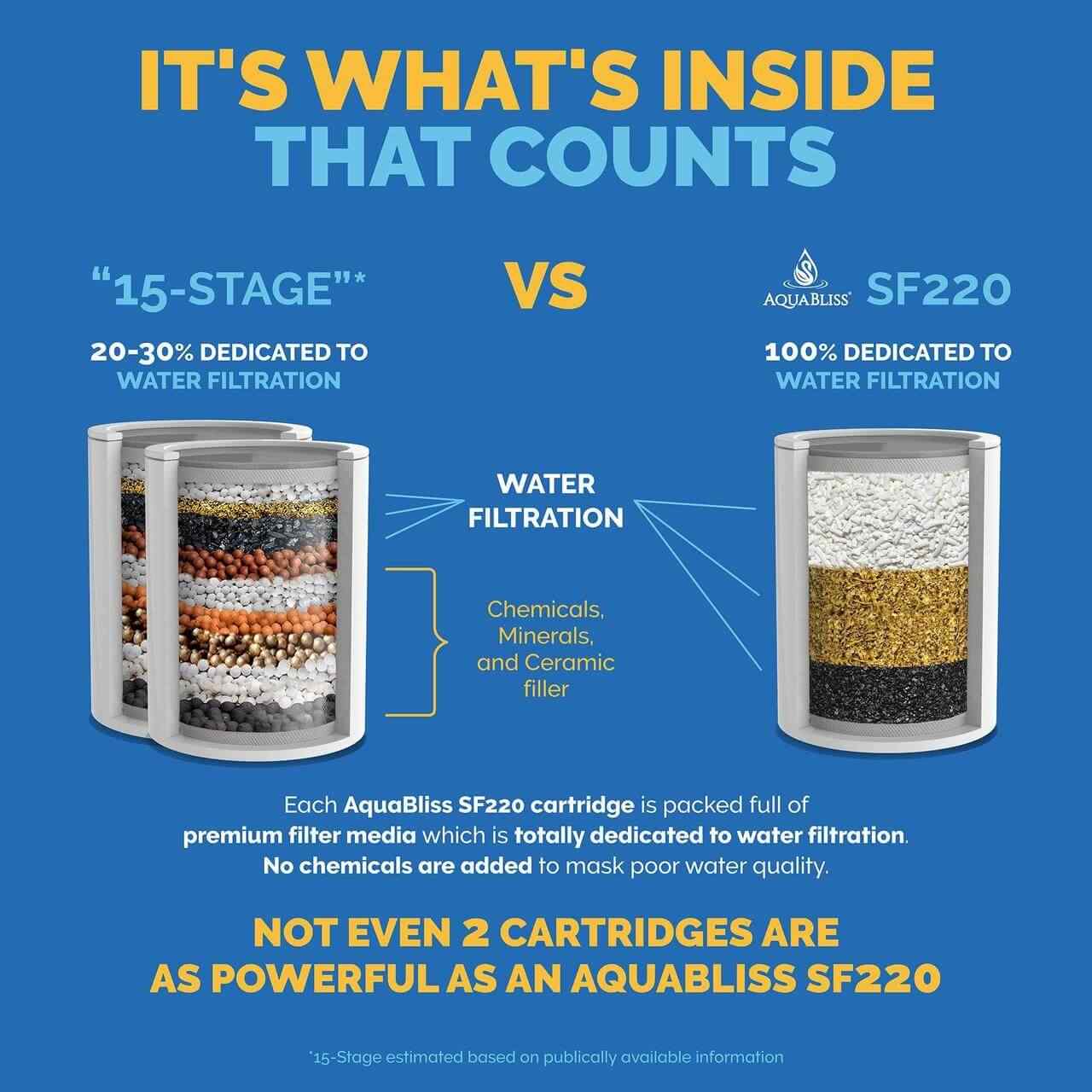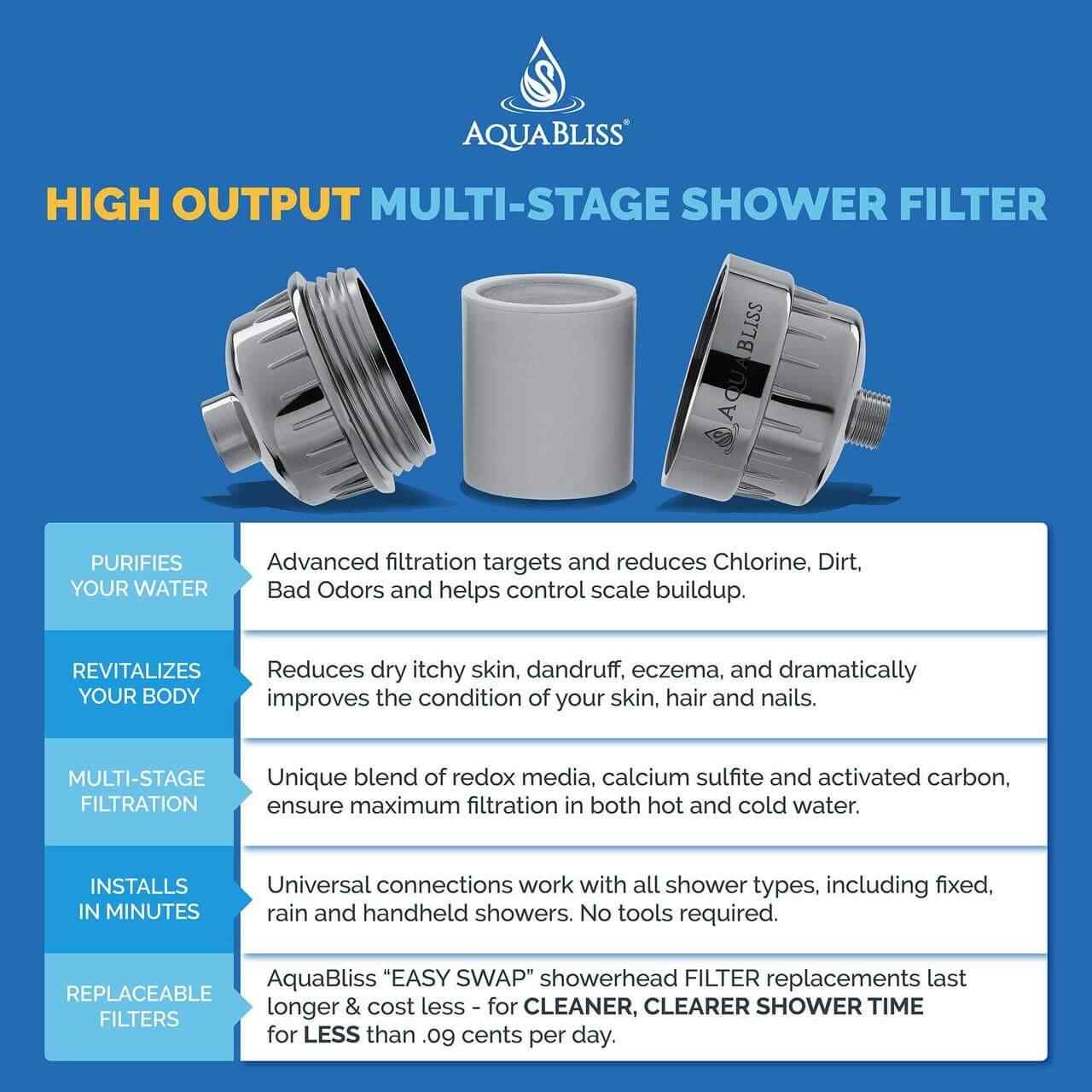 The Ultimate High-Pressure Showerhead Filter by AquaBliss
Purify Your Water, Let Your Body Glow
Revitalize, rejuvenate and refresh your natural beauty with the AquaBliss SF220 Multi-Stage Shower Filter. It's nicknamed the "Beauty Filter" for good reason. Made with a unique blend of premium filtration media, this multi-stage filter significantly reduces all the impurities and contaminants in tap water that contribute to dry skin, hair breakage, and brittle nails.
Proven Filtration Media
Using a proven blend of physical, absorption, and ion exchange media, the AquaBliss Multi-Stage Showerhead Filter removes sediments, makes water feel softer, and neutralizes chemicals to produce cleaner, healthier water.
Banish Bad Smells
No one wants to bathe in funky, stagnant-smelling water. That's why we added a unique smell-eliminating element to our AquaBliss high output universal shower filter — so you get the clean, luxurious shower you desire, without smelling like a metal shop. 
Easy-Out Removable Filter Cartridge – Eco-friendly & Fast
While most shower head filters require you to completely replace the shower head, or disassemble the entire filter to restore clean, soft-feeling water – Aquabliss water filter cartridge easily slides out so you can slide a new one in – no crazy dismantling required. Replacement cartridges available here.
How AquaBliss Water Shower Filtration It Works
AquaBliss Multi-Stage Shower Filter - Chrome (SF220) uses gravity and water pressure work synergistically with a proven blend of PROVEN BLEND of Redox Media, calcium sulfite and activated carbon to pull away all the gross, harmful toxins, chemicals and (bad) minerals you don't want touching your skin. 
AquaBliss hard water shower filter uses advanced filtration technology to purify your water. Here is how our multi-stage filter works:
Sand filter ⏤ Prevents large sediments like sand and limescale from entering the showerhead filter.
Ultra-fine stainless steel mesh ⏤ Captures medium-sized sediments.
Micro-porous PP cotton ⏤ Traps tiny sediments, dust, and turpitudes.
Calcium sulfite ⏤ Reduces the amount of chlorine in hot and cold water.
Redox media ⏤ Controls scale and lowers the concentration of chlorine, even in hot water.
Activated carbon ⏤ Helps decrease chlorine, trihalomethanes (THMs), and other contaminants in water.
Micro-porous PP cotton ⏤ Stops filtration media and captured sediments from exiting the filter.
Ultra-fine stainless steel mesh ⏤ Holds the micro-porous cotton firmly in place and prevents medium-sized sediments from getting into the filer when the cartridge is reversed.
Three-Step, Two-Minute Installation
You don't have to get special tools or bring in a plumber to fix our showerhead filter. AquaBliss filters have a simple twist-in design that can be installed on your shower head in two minutes. All you need to do is:
Step 1: Unscrew your current showerhead.
Step 2: Screw in your new universal high-pressure hard water shower filter.
Step 3: Attach your showerhead to the end of your new filter, hop in, and enjoy!
Universally Usable, Universally Loved
There's no need to buy a new showerhead if you want to use our Multi-Stage Shower Filter. This AquaBliss high output universal shower filter comes with standard ½" connections, which makes it compatible with:
Fixed showers
Rain showers
Combo showerheads
USA Support and Money-Back Guarantee
Our showerhead filters deliver results you can see and feel. If you don't get softer skin, smoother hair, and stronger nails within a few weeks of using this filter, you can return the product within 30 days of purchase and get all your money back.
COMPARE SHOWER FILTERS
Frequently Asked Questions
Interested in knowing more about our hard water shower filters? Go through our frequently asked questions to find the right shower filter for you!
Which Showerhead Filter Removes the Most Contaminants?
AquaBliss HD Multi-Stage Shower Filter is a heavy-duty shower filter designed to reduce the impurities from your water extremely fast and effectively. The AquaBliss Revitalizing Shower Filter removes a high level of impurities from the water but also infuses it with beneficial minerals and vitamin C, which helps rejuvenate and revitalize damaged skin, hair, and nails. The AquaBliss Multi-Stage Shower Filter lies between the HD and Revitalizing filters in terms of filtration capabilities.
Can Showerhead Filters Remove Chloramine?
Shower filters, while very effective at reducing chlorine and other harmful substances, cannot remove chloramine. If your municipal water has high levels of chloramine, it may be a good idea to use a whole-house filtration system or a similar dedicated chloramine filter.
How Would I Know Which Shower Filter to Use?
The type of hard water shower filter you use will depend on the level of contaminants in your water. A TDS meter can help you identify impurities but specialized tests are required to test for specific chemicals or metals, such as a chlorine colorimeter. We recommend reaching out to a professional for a thorough examination of your water quality.
Will an SF220 Showerhead Filter Work With My Existing Shower Head?
Yes - The AquaBliss high output universal shower filter uses standard ½" connections, to ensure maximum compatibility with all standard showerheads.
It seems to be working good and it was easy to put it on! Thank you!!:)
Great product
Everything I wanted. Easy to install too!
Excellent
I'm very happy with the AquaBliss shower head filter. I feel much better about showering now, and the water feels nicer as well.
Great product for filtering shower water. Very fast delivery.
Auqabliss order
We have NOT received our order yet. Please check your mailing address. My address is 437004 E 1931 Rd. Rattan OK 74562
Unhappy With Your Product? We'll Take it Back!
We stand by our high-quality products and your statisfaction is 100% guaranteed by our 30-day Money-Back Guarantee
Secure Checkout
We use encrypted SSL security to ensure your credit card information is 100% protected.