AquaBliss Multi-Stage Shower Filter Replacement Cartridge (SFC220)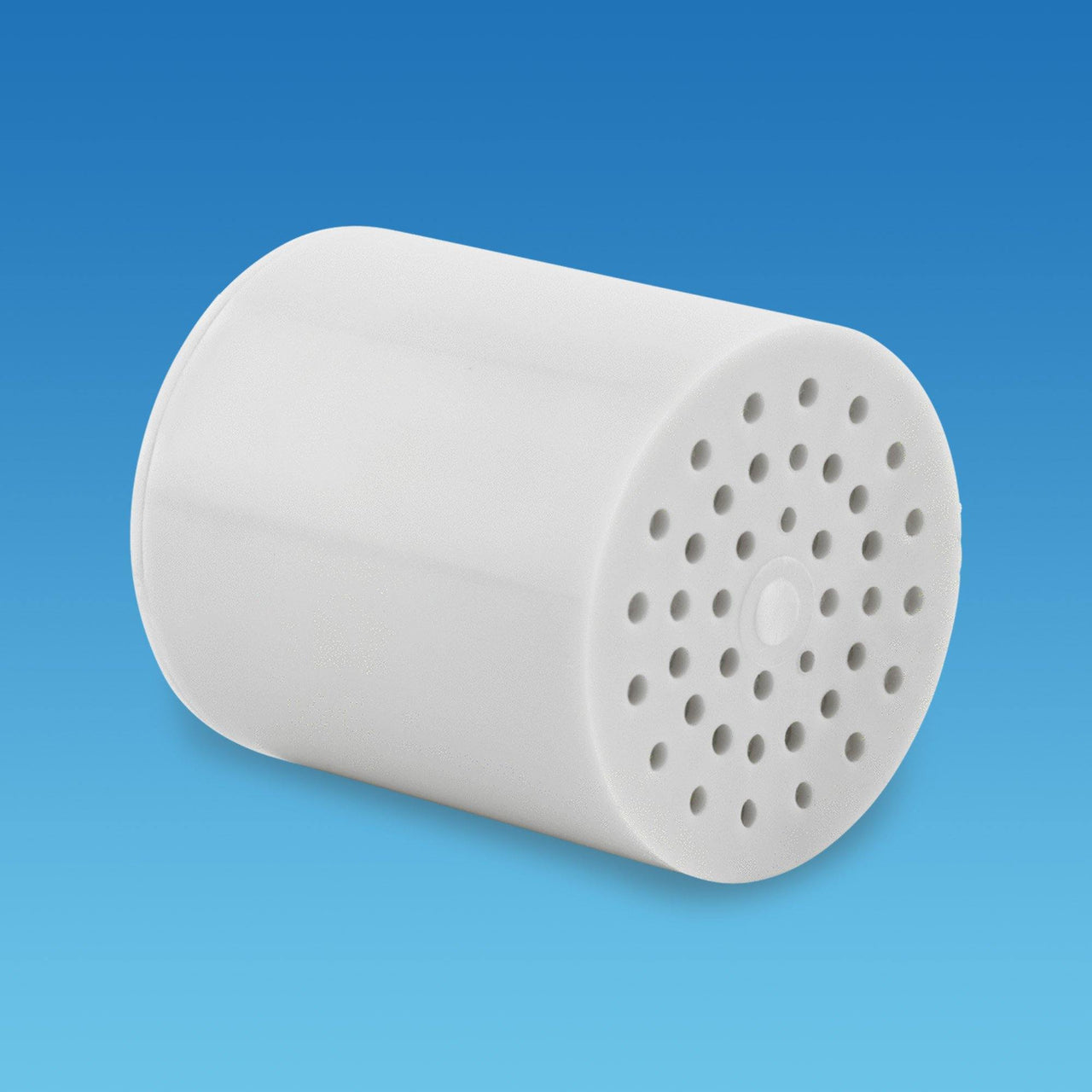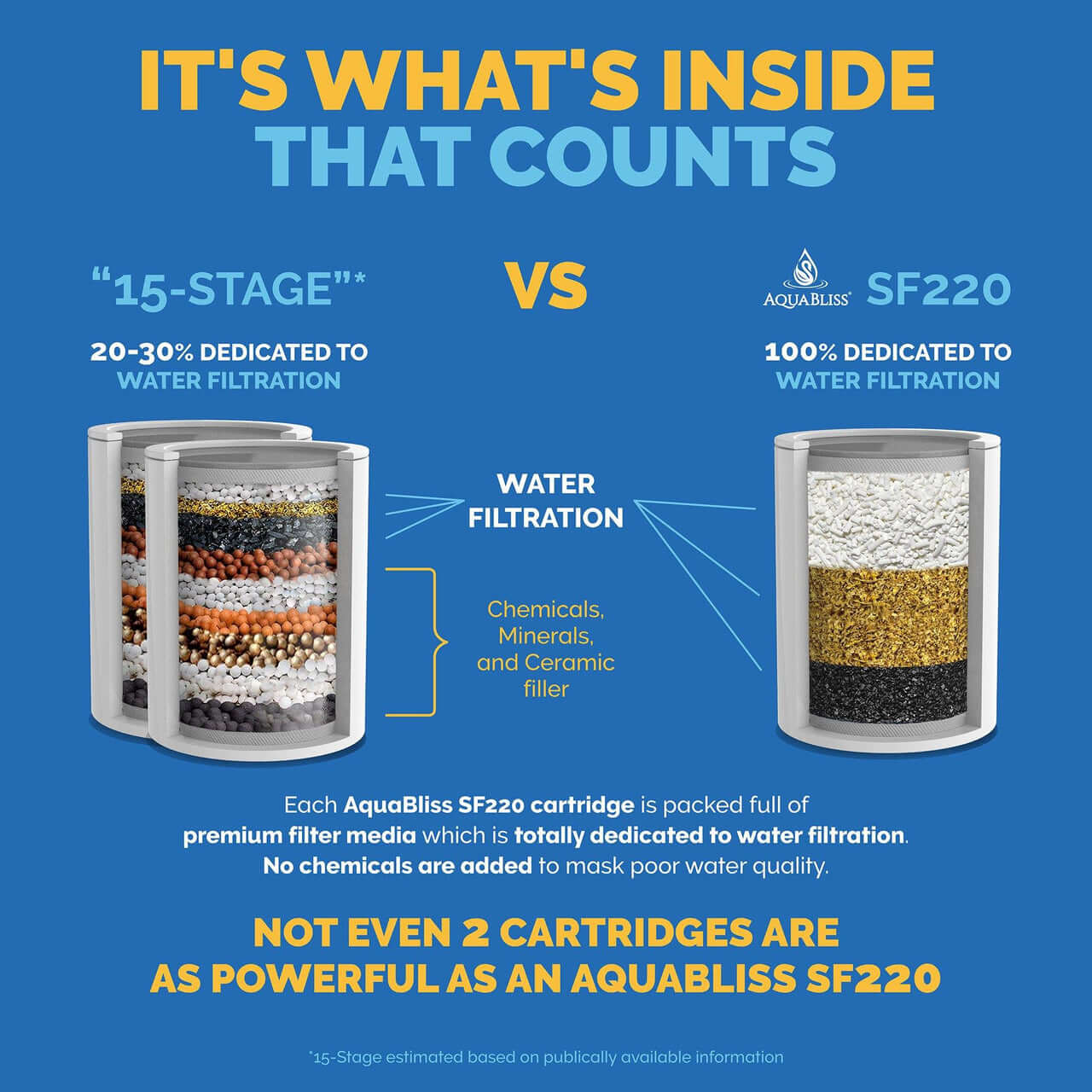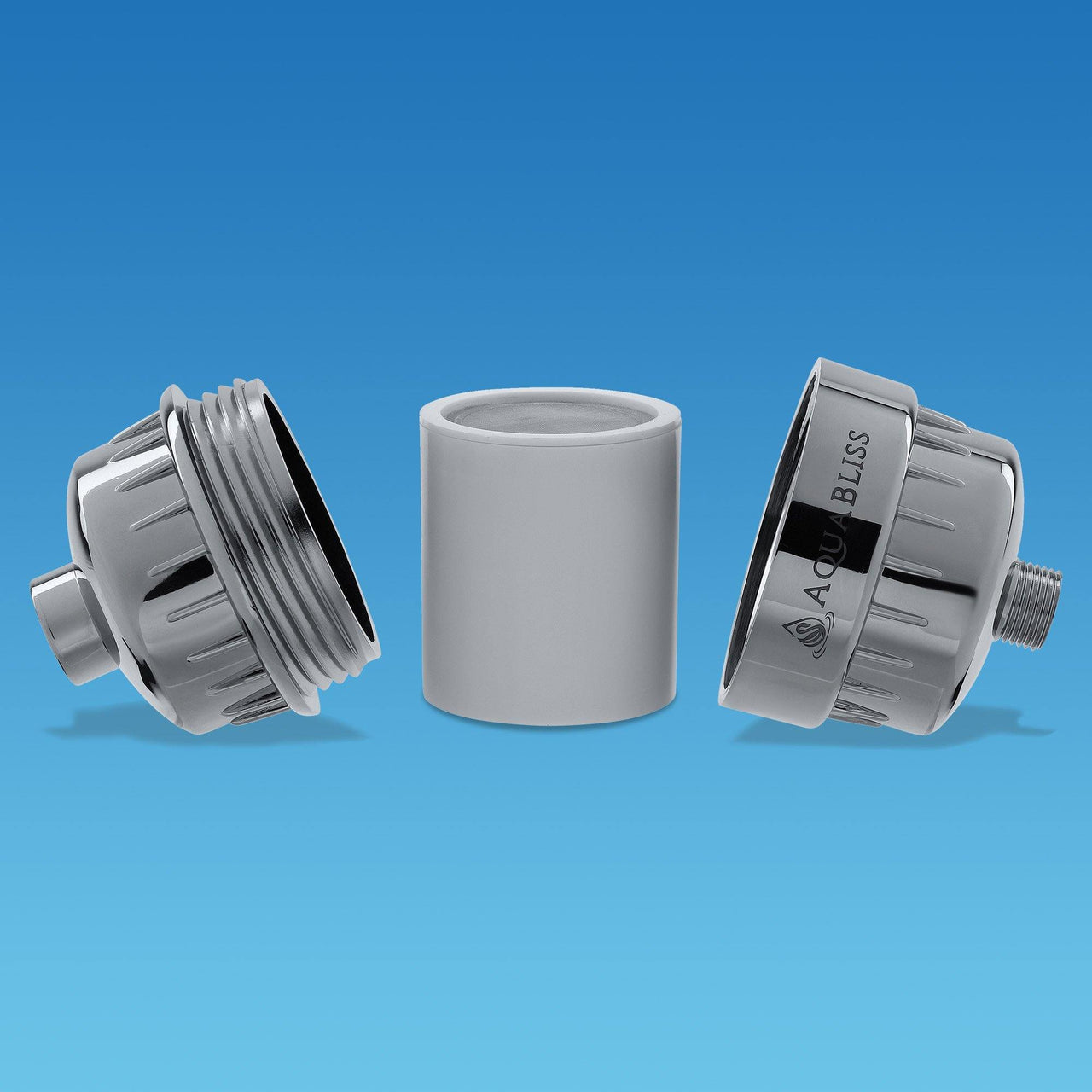 AquaBliss SFC220 Shower Replacement Filter – Discover the Beauty of a New Level of Clean
IMPORTANT: For maximum longevity please only use AquaBliss water filter replacements in your AquaBliss SF220 - using an off-brand or copycat cartridge replacement could result in unnecessary wear and tear and a reduced lifespan.
UPGRADE YOUR WATER, NOT YOUR EXPENSES
Why risk exposing you or your family to harmful toxins, chlorine, dirt, and bad odors when you can easily, affordably, and quickly upgrade your shower head filter with the Aquabliss 220 high output shower cartridge.
ELIMINATES TOXINS IN HOT & COLD WATER
Most filter cartridge replacements stop providing effective protection when water becomes too cold or too hot – Aquabliss advanced multi-stage water filtration replacement filter continually provides unrivaled protection, regardless of water temperature.
ENHANCE YOUR COMFORT - ITCHY, FLAKY, ECZEMA RIDDEN SKIN? NOT ANYMORE
Replacement multi-stage shower filter cartridge blocks the yuck that causes your skin to peel, flake, and crack – all by showering for 10 minutes a day.
ENHANCE YOUR BEAUTY – BRITTLE NAILS? FRIZZY HAIR? DULL SKIN? NOT ANYMORE
Shower filter cartridge replacement for a rain shower, fixed shower, or handheld shower filters eliminates the chemicals that strip your hair, nails, and skin of nutrients for stronger nails, silkier hair, and radiant skin that glows.
FASTEST & EASIEST – NO TOOLS REQUIRED
If you can twist out a lightbulb or pull a dollar out of your wallet, you can swap out your Aquabliss shower filter cartridge replacement in seconds – simply unscrew your filtered shower head casing, slide out your existing shower filter cartridge, drop in the new one and you're ready to bathe!
HEAVY-DUTY – 6 FULL MONTHS OF PROTECTION
While most shower filter cartridge replacements for rain showers, fixed showers or handheld showers only last a couple of months, our #1 shower filter replacement system PROVIDES up to 6 full months of protection against chlorine, dirt, scale and bad odors and other eczema treatment irritants.
UPGRADE YOUR WATER, NOT YOUR SHOWER HEAD
Compatible with:
AquaBliss SF220 High Output Shower Filter
AquaHomeGroup Shower Head Filtration System
CaptainEco Shower Head and Filter
Homepal Shower Head Filtration System
CAUTION - ONLY USE AQUABLISS CERTIFIED NO-CLOG FILTERS
A comparative study shows how other shower and bath filter copycats actually cost you more because they use cheap carbon and calcium sulfate that builds up and clogs your flow. Because we use only scientifically formulated premium carbon, redox media, and calcium SULFITE (not cheap sulfate) you get longer-lasting protection at a price you can't pass up.
EXPERIENCE THE BLISS – RISK-FREE
You'll love how our water filter cartridge ELIMINATE SMELLS and restores clean water for a full 6 MONTHS or simply let us know within 30 days and we'll issue you a full, no-hassle refund. (Includes 12 MONTH WARRANTY against defects)
USA VIP Customer Care
While most customers find installation and use a breeze, you can rest assured that our USA VIP Customer Care representatives are here to assist you if there's ever a need.
COMPARE SHOWER FILTER CARTRIDGES
| | | |
| --- | --- | --- |
| Model | AB-SFC100 | AB-SFC220 |
| Calcium Sulfite | | |
| Redox Media | | |
| Activated Carbon | | |
| Replaceable Sediment Filter Pads | | |
| Chlorine Reduction | Effective | Highly Effective |
| Infuses Water with Beneficial Vitamins & Minerals | Zeolite, Vitamin C, Tourmaline & Magnetic Energy beads | |
| Fast & Friendly USA Customer Care | | |
| Step-by-Step Instructions | | |
| Size (inches) | 2.68 (H) x 2.40 (W) | 2.68 (H) x 2.40 (W) |
| Weight | 0.39 lbs | 0.39 lbs |
| Compatible Shower Filters | SF100, SF220 | SF100, SF220 |
FAQs
What's the difference between the SFC220 & SFC100?
The SFC220 is a heavy-duty multi-stage cartridge for the SF220 shower filter. It is designed to reduce high levels of contaminants from your water. The SFC100 also reduces contaminants and includes beneficial vitamins and minerals, which infuse your water to help repair and rejuvenate damaged skin, hair & nails
How long does it last?
We recommend changing the cartridge after 10,000 gallons of use or 6 months, whichever comes first. This will ensure the optimal performance of the shower filter.
Can this filter cartridge remove Chloramine?
No - While it is extremely effective at removing Chlorine, it cannot remove Chloramine. If water has high levels of chloramine we would recommend using a whole-house filter, to improve the quality of your water.
Which shower filters is this cartridge compatible with?
It is compatible with AquaBliss SF220 and SF100 shower filters.
People often buy
Total price:
$70.84
$114.85
I think i'm loving it
First of all, filters were delivered the next day which is insanely quick. Thank you so much! And I really do feel a difference in my skin, my skin used to be so smooth and held moisture well and I thought it was just age but my skin is getting back to normal now, no more dry cracking skin it's really crazy that every shower doesn't have a filter in nyc
Great product
Works just like I wanted. Was easy to install and the instructions were clear.
Great filter!
We are on well water with a whole house filtration system. This filter has made a big difference in my hair & skin. Highly recommend this filter.
So far so good.
Just wanted to know if a slight white film on my shower walls and water faucet is normal for this product?
Unhappy With Your Product? We'll Take it Back!
We stand by our high-quality products and your statisfaction is 100% guaranteed by our 30-day Money-Back Guarantee
Secure Checkout
We use encrypted SSL security to ensure your credit card information is 100% protected.